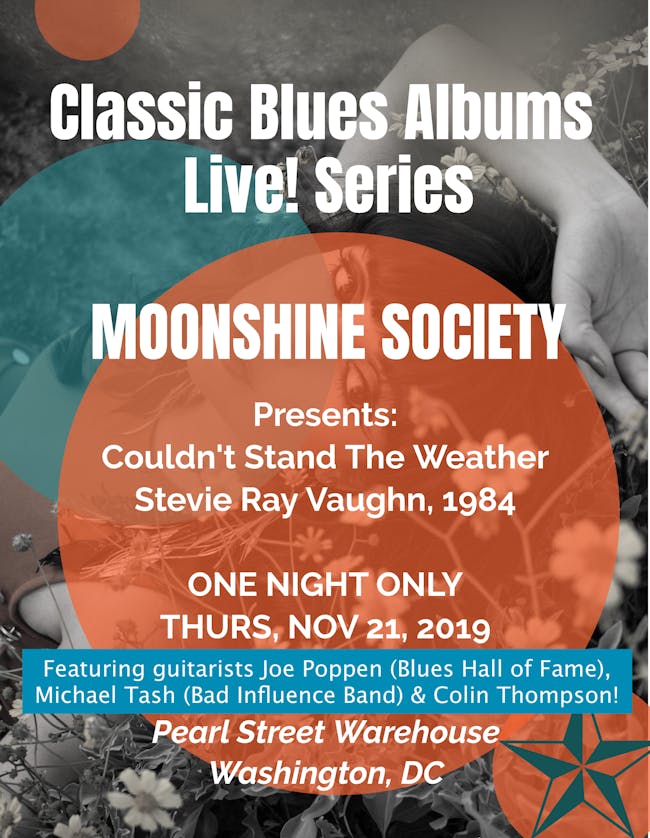 Moonshine Society Presents: Classic Blues Albums Live!
Classic Blues Albums Live!, - Couldn't Stand the Weather, Stevie Ray Vaughn
Moonshine Society - Classic Blues Albums Live! w/s/g Michael Tash (Bad Influence Band), Joe Poppen (Blues Hall of Fame), and Colin Thompson.
This is a FREE show.
NO Tickets are required for this show.
Seating is limited & first come first serve
RSVP appreciated but not required
RSVP does NOT guarantee a seat at a table
Moonshine Society gives a big nod to Aesop's theory that we're known by the company we keep. So while staking claim to lofty Music Land real estate of their own with a searing, cutting-edge blend of blues, soul, rock and R&B, they continue to rack up powerhouse stripes rubbing elbows with the best. Johnny Winter, Tower of Power, John Mayall, Roomful of Blues, John Mayer and Ron Holloway count among the legends the band and its members have accompanied and opened for, not to mention other greats as Tab Benoit, George Clinton and the Funkadelic, Snoop Dogg, Danny Gatton and Samantha Fish.
Moonshine Society is the offspring of three promising young music scholars who came together at Boston's renown Berklee College of Music. Of like minds and musical passions, they united in 2009 to create their own brand of soulful blues, roots rock and old-school R&B–if a fundamental definition is actually required. In truth, they teamed to craft their own formula of music that speaks to the soul and defies the labels of traditional musical confines.
The trio sealed their pact one moonlit night in the Anacostia Delta, where then and there, their name became written in the stars. They were to be Moonshine Society. Little did they know on that fateful night that they were buckled in on a launching pad set to rocket them at dizzying speed to performance destinations of their wildest dreams throughout the US and the world. In retrospect, though, it's little wonder considering the band's composition of killer talent, now four-plus strong.
Leading the troupe is impassioned, soulful singer and songwriter Black Betty, who has shared the stage with such musical greats as Warren Haynes, Derek Trucks and Jack Pearson of Allman Brothers fame, Susan Tedeschi of the Tedeschi Trucks band and Jimmy Vivino from "Late Night with Conan O'Brien". Part vamp and part glamour girl, she is all-commanding in her on-stage deliveries and becomes pure sorceress spellbinding audiences with her searing hot vocals. To quote from her sizzlingly seductive rendition of "Fever" –what a lovely way to burn.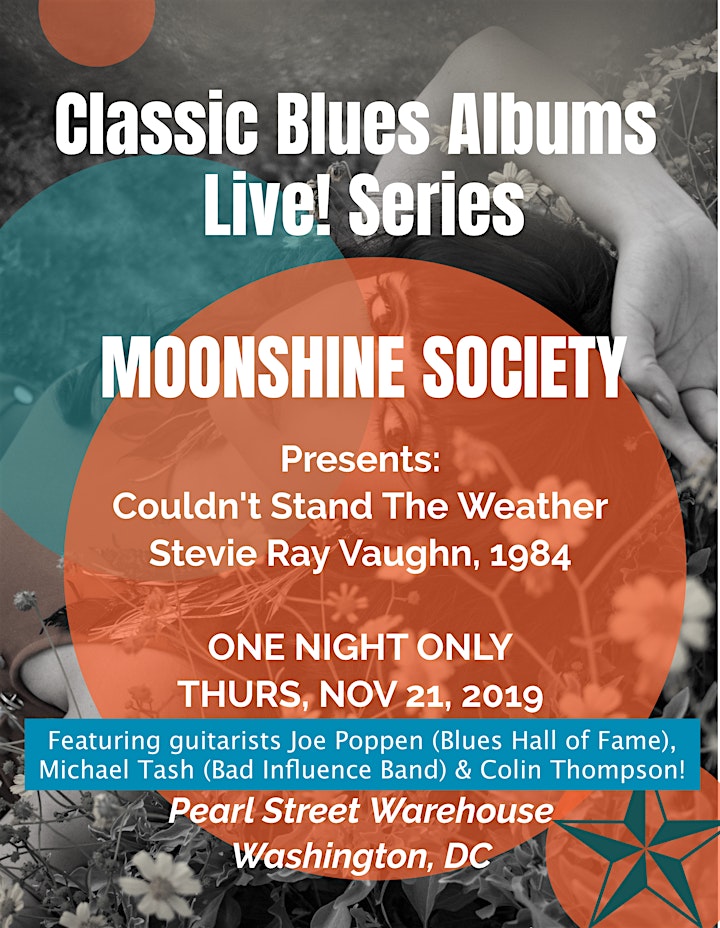 Venue Information:
Pearl Street Warehouse
33 Pearl Street SW
Washington DC, DC, 20024