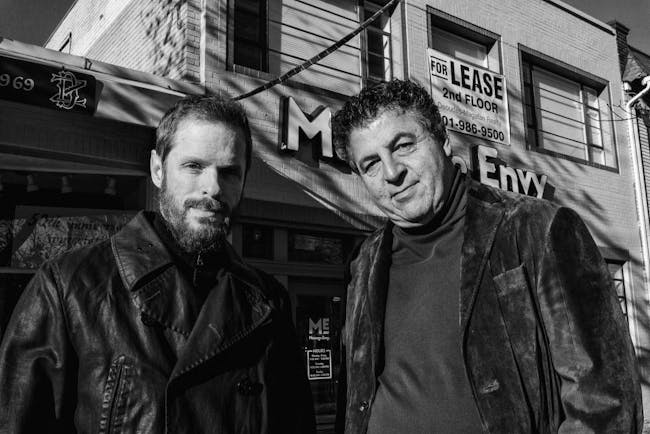 Pearl Street Warehouse Presents
Rescheduled from 3/15/2020 Modest Proposal w/ DJ Skate
Please join PSW as we flashback to an iconic local show, featuring DC's Modest Proposal. This show is rescheduled from 3/15/2020
Founded in 1983 by singer Neal Augenstein ( You know him now from WTOP Radio )& guitarist Bill Crandall, Modest Proposal was at the forefront of America's mod revival. With large, enthusiastic, dancing crowds, wearing stylish clothes reminiscent of scenes from "Quadrophenia," MP quickly became one of DC's most popular bands.
On Sunday Feb. 17, 1985, Mod Fun traveled down I-95 to play with Modest Proposal, in a Mod AllDayer, at the now defunct Friendship Station. Scooters lined Wisconsin Avenue, and the dance floor remained full for an afternoon of poppy, energetic songs.
After MP's sold-out 2009 reunion show, UK-based Detour Records released "Long Time Ago," on CD and download earlier this year, featuring classic and unreleased Modest Proposal music.
Now, Modest Proposal is reuniting for its first live show in over 10 years.
Joining Augenstein and Crandall onstage are Hunter Bennett, who played bass in indie pop darlings Julie Ocean, and shares the rhythm section duties of highly-acclaimed Dot Dash, with drummer Danny Ingram, whose career spans from early D.C. punk band Youth Brigade to legendary Swervedriver.
https://www.facebook.com/Modest-Proposal-193084548492/
http://shop.detourrecords.co.uk/MODEST-PROPOSAL-/-THE-MONDAYS-Long-Time-Ago-CD-NEW-M
https://music.apple.com/us/album/long-time-ago/1410753338
Band Photo by: Chris Suspect
DJ Wayne "Skate" Deavers will be spinning tunes before and between the bands. Anyone who was around DC in the 80s remembers Skate filling dance floors with mod/ska/pop/northern soul at Back Alley Cafe and Poseurs.

Venue Information:
Pearl Street Warehouse
33 Pearl Street SW
Washington DC, DC, 20024