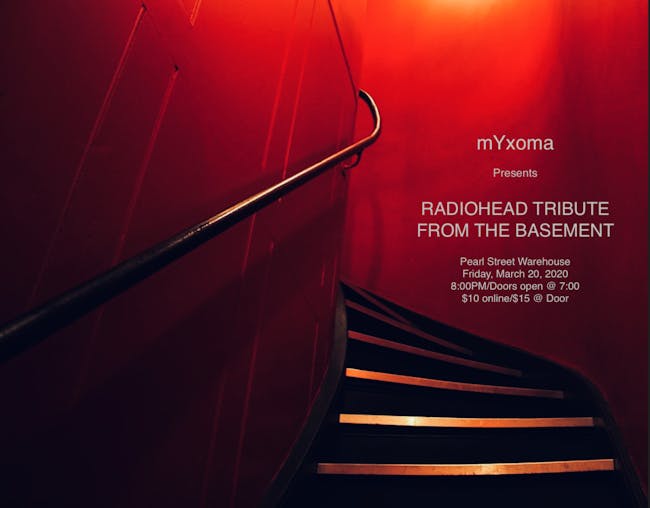 mYxoma Presents - Radiohead Tribute: From The Basement
A group of eight talented artists came together to form mYxoma, a Washington DC super group, to cover In Rainbows, a Radiohead masterpiece. Most of the band members play in other local groups, each bringing their styles and flair to the stage to share their love of Radiohead with the audience.
Taking two years to record, in Rainbows was released on October 10, 2007. Breaking grounds as one of the first major downloadable, pay-what-you-wish albums, it incorporates a variety of musical styles and instruments, including electronic, string arrangements, and piano. The album received critical acclaim and was ranked one of the best albums of 2007 and of the decade by various publications. In 2008 the band released a video titled 'From the Basement' featuring ten performances songs from the album. Paraphrasing Thom Yorke, the band's lead, the album has a feeling of your physical consciousness being trapped without being able to connect fully with anything else - "that anonymous fear thing, sitting in traffic thinking 'I'm supposed to be doing something else'(TY)". It retains the band's trademarked, lingering vibe and familiar reserve, but this time, the strings, reverb and melody make the delivery inescapably warm and inviting, a paralyzing feeling that makes you want to move yourself.
In covering this show, mYxoma, hopes to take the audience with them on this seductive, emotional and breathtaking journey, and experience together the musical complexities of this beautiful piece of art..
The Band
Vocals - Beth Cannon (Elizabeth ll) https://www.facebook.com/ElizabethiiMusic/
Guitars - Allen Mosenkis (Indiana Jonesin) https://www.facebook.com/IndianaJonesin/
Guitars - Barrett Browne (Rosie Cima & What She Dreamed) https://www.facebook.com/whatshedreamed/
Bass - Colin Kelly (Tuff Lover, Bottled Up, Young Rapids) https://www.facebook.com/tuffloverdc/ https://www.facebook.com/bottledupdc/ https://www.facebook.com/YOUNGRAPIDSMUSIC/
Keyboards - Brenna Muller
Drums - Omri Malul (Smokin On Planes) https://youtu.be/xem0qEB37T4
Drums - Mitch Bass (Pagan Reagan) https://www.facebook.com/paganreaganmusic/
​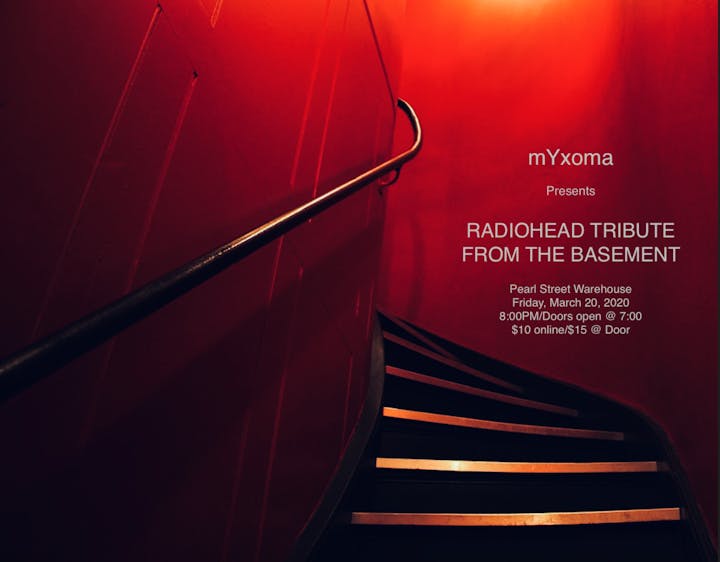 Venue Information:
Pearl Street Warehouse
33 Pearl Street SW
Washington DC, DC, 20024