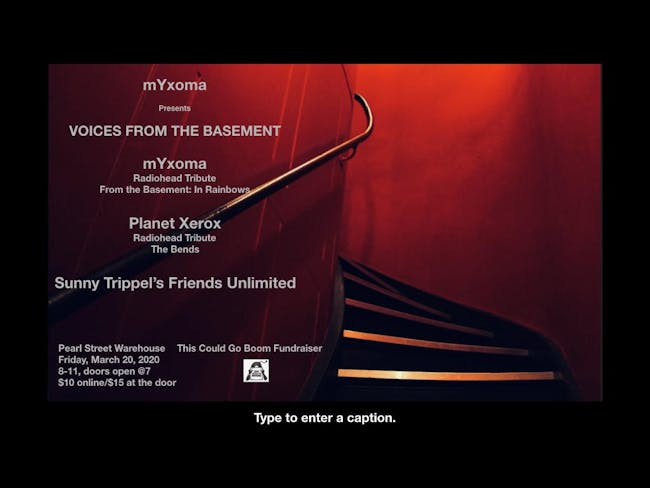 Presented by mYxoma. This show is a benefit for This Could Go Boom
POSTPONED mYxoma - Radiohead Tribute: From The Basement + Planet Xerox+STFU
Due to circumstances outside of our control this show has been POSTPONED. Hang on to your tickets. We will email when new date is announced.
A group of eight talented artists came together to form mYxoma, a Washington DC super group, to cover In Rainbows, a Radiohead masterpiece. Most of the band members play in other local groups, each bringing their styles and flair to the stage to share their love of Radiohead with the audience.
Taking two years to record, in Rainbows was released on October 10, 2007. Breaking grounds as one of the first major downloadable, pay-what-you-wish albums, it incorporates a variety of musical styles and instruments, including electronic, string arrangements, and piano. The album received critical acclaim and was ranked one of the best albums of 2007 and of the decade by various publications. In 2008 the band released a video titled 'From the Basement' featuring ten performances songs from the album. Paraphrasing Thom Yorke, the band's lead, the album has a feeling of your physical consciousness being trapped without being able to connect fully with anything else - "that anonymous fear thing, sitting in traffic thinking 'I'm supposed to be doing something else'(TY)". It retains the band's trademarked, lingering vibe and familiar reserve, but this time, the strings, reverb and melody make the delivery inescapably warm and inviting, a paralyzing feeling that makes you want to move yourself.
In covering this show, mYxoma, hopes to take the audience with them on this seductive, emotional and breathtaking journey, and experience together the musical complexities of this beautiful piece of art..
The Band
Vocals - Beth Cannon (Elizabeth ll) https://www.facebook.com/ElizabethiiMusic/
Guitars - Allen Mosenkis (Indiana Jonesin) https://www.facebook.com/IndianaJonesin/
Guitars - Barrett Browne (Rosie Cima & What She Dreamed) https://www.facebook.com/whatshedreamed/
Bass - Colin Kelly (Tuff Lover, Bottled Up, Young Rapids) https://www.facebook.com/tuffloverdc/ https://www.facebook.com/bottledupdc/ https://www.facebook.com/YOUNGRAPIDSMUSIC/
Keyboards - Brenna Muller
Drums - Omri Malul (Smokin On Planes) https://youtu.be/xem0qEB37T4
Drums - Mitch Bass (Pagan Reagan) https://www.facebook.com/paganreaganmusic/
​
Planet Xerox is a 6-piece band of local musicians who've united to tribute Radiohead's album, The Bends. Though not as iconic as OK Computer, Kid A, or In Rainbows, the album has gone on to influence many musicians since it's release on March, 13 1995, and is for many, their introduction to the band. The set covers a songs from the album that have had the most impact on the musicians who have chosen to take on the task of mastering such an iconic album to the best of their abilities.

Sunny Trippel's Friends Unlimited (STFU) is a group of friends assembled for what was meant to be a one-time private event in early 2019. The music that emerged from that sparked an undeniable synergy that unleashed a mega-fusion of layered, storied tributes as well as thoughtfully crafted, room-shaking, original funk-rock.

This group is a heat seeking missile that will release your endorphins and make you dance. We are active contributors in the growth, development & evolution of music. We want to do good while we have the best time ever.

Notably, Sunny Trippel's Friends Unlimited participates in the therapy of music within our community and each performance is in tandem with a benevolent endeavor.

Sunny Trippel's Friends Unlimited is honored to work with Specially Adapted Resource Clubs on a regular basis, bringing music programs to adults with lifelong disabilities. We are grateful for contributions to this mission by our friends Pink Talking Phish, Moogatu, Umphrey's McGee, Todd Wright, Katy Gaughan, On The Bus, and many more.

We donate a part of all proceeds from our shows to music programs for this under served community. Come be part of that with us- we need to do it - and it ALL FEELS REALLY GOOD.

The Band:

Sunny Trippel (Covered with Jam)

Nikhel Sus (Staycation, Knovo)

Chris Lee (Moogatu, Shamans of Sound)

Colin James (Covered with Jam)

Neel Singh (Staycation)

Dave Ray (Staycation, Mary-el Band)

This Could Go Boom! believes in the potency of unheard, under-promoted musical narratives and their potential to spark action and cultural change. TCGB champions these voices by offering record label services, workshops, performance opportunities, and community outreach programming focused on women and non-binary musicians, sound engineers, music business professionals, students, and music lovers.

Venue Information:
Pearl Street Warehouse
33 Pearl Street SW
Washington DC, DC, 20024