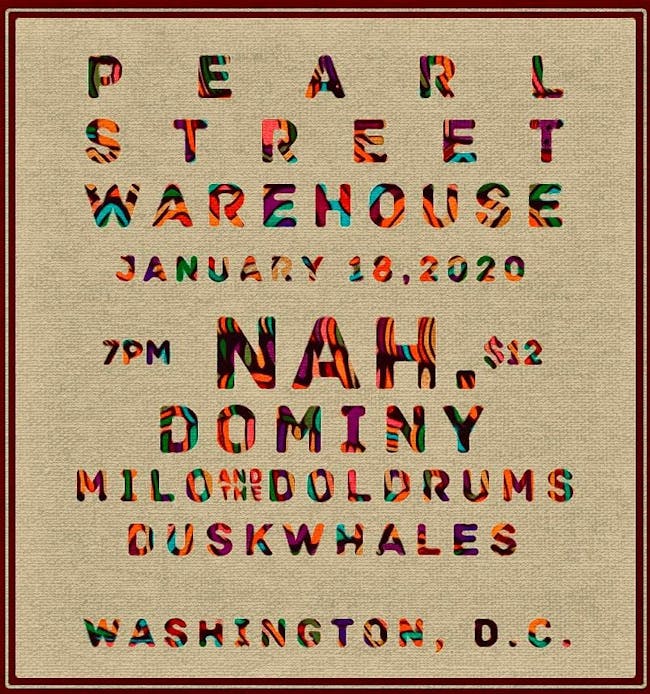 Presented by Pearl Street Warehouse
Nah.
Dominy
Milo in the Doldrums
The Duskwhales
This show is G.A. Seating will be limited and first come first serve Tables are meant to be shared
Nah.
We're 5 friends from the Washington DC area making indie rock, dreamgaze, hippie punk, or whatever you hear when you're listening to us. Nah. began in 2015 with an almost entirely different cast of humans as the brainchild of bassist Brendan Ra Tyler, the intention behind it being a way to communicate better about mental health and healing, a purpose that has held strong for 3 years. As a group we strive to create more inclusive, loving, and safe spaces for anyone who might stumble upon one of our shows. Spaceship Sound Studios was started in 2018 in the Nah. band home by drummer Stephen Rodriguez as an effort to help boost the DIY community in DC and get more local music that we believe in on streaming services, or just out into the world for more people to hear. We're all about music, community, and love. You're welcome any time.
https://open.spotify.com/artist/2AxkuNRBTJQXF3gb2Xwz8O?si=8mIPuJFgQQyoIxruZbOqWQ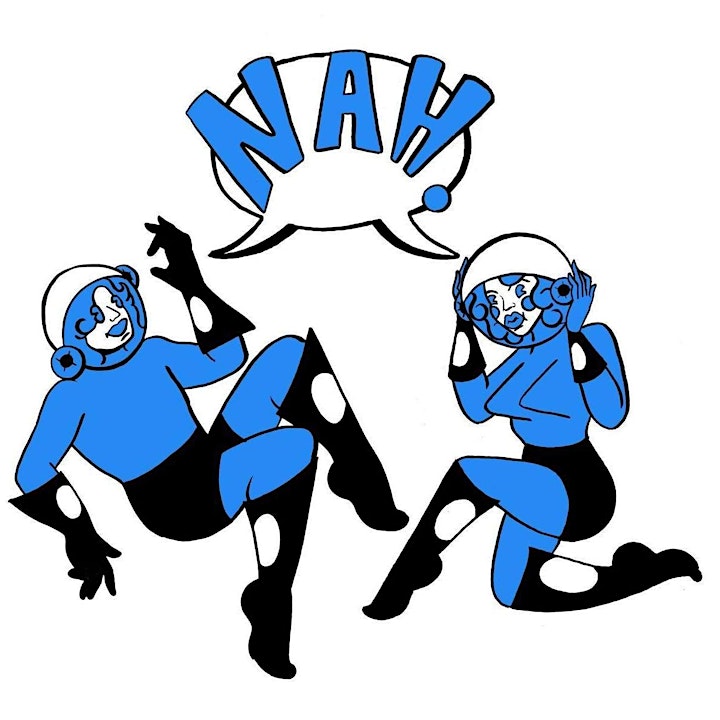 Dominy:
Dominy is a Philadelphia based indie band that crafts hook-laced, irreverent rock and roll that draws a wide array of influences that include surf, classic country, and Americana. Formed in 2016, Dominy released their debut album, 'Wet Leather' in January 2017, as well as a follow up EP that July titled 'Dry Pleather'. During their time playing in Philadelphia as well as touring, Dominy has garnered a reputation for high energy shows suffused with sardonic humor. Currently in the studio, Dominy forges ahead with their relentless energy, working on their second full length album (slated for spring 2019), the third release in under two years as a band.
https://www.facebook.com/JohnDominyMusic/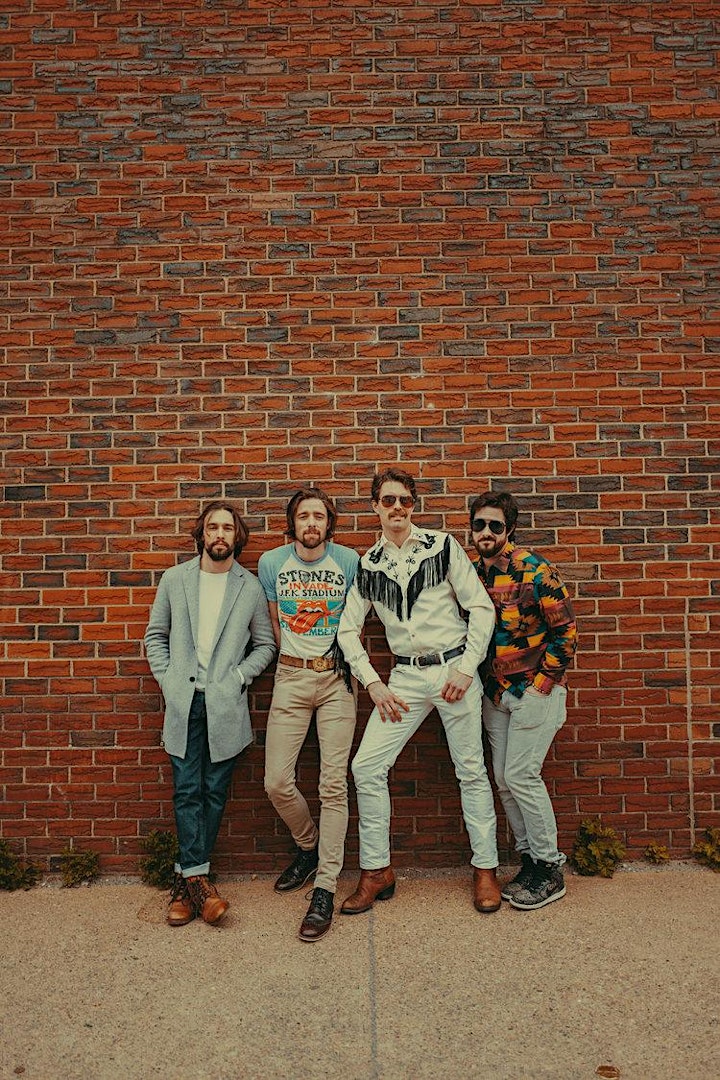 Milo in The Doldrums:
Milo in the Doldrums is an indie rock band from Northern Virginia. The band combines modern melodies with nostalgic hooks, tinged with melancholy and uplifted by a love for life and friends. The band has released three EP's, to date, and are currently working on writing and recording their debut full length album. The band is comprised of Robert Mays, Richard Smith, Ryan Wisgerhof, Ryan Burke and whichever friends are brought along for the ride. Names beginning with 'R' not required.
https://www.facebook.com/milointhedoldrumsmusic/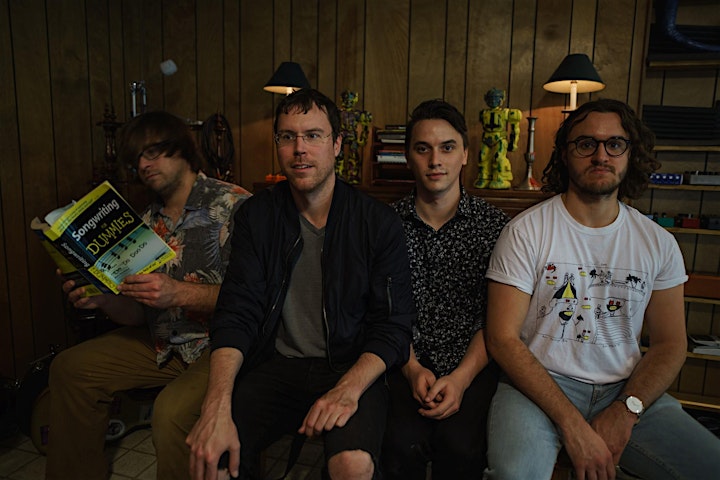 Duskwhales:
The Duskwhales are a three-piece indie rock band formed in Manassas, Virginia in 2010. Their sound is reminiscent of 60's groups such as The Beatles and The Doors through prominent use of keyboards and memorable vocal harmonies. While incorporating the best elements of their psychedelic roots, the young trio creates a sophisticated style of their own in both studio and live settings. They have shared the stage with national acts Car Seat Headrest, Diane Coffee, Little Green Cars, and Frankie Cosmos, as well as performed to packed audiences across the East Coast.
https://www.theduskwhales.com/
https://www.facebook.com/TheDuskwhales/
https://www.instagram.com/theduskwhales/
https://theduskwhales.bandcamp.com/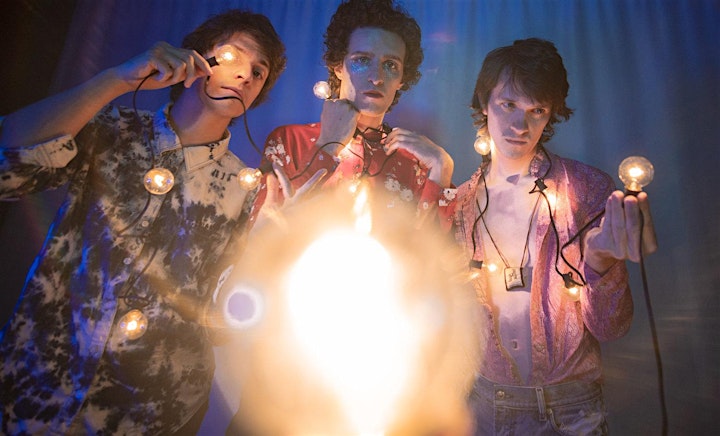 Venue Information:
Pearl Street Warehouse
33 Pearl Street SW
Washington DC, DC, 20024