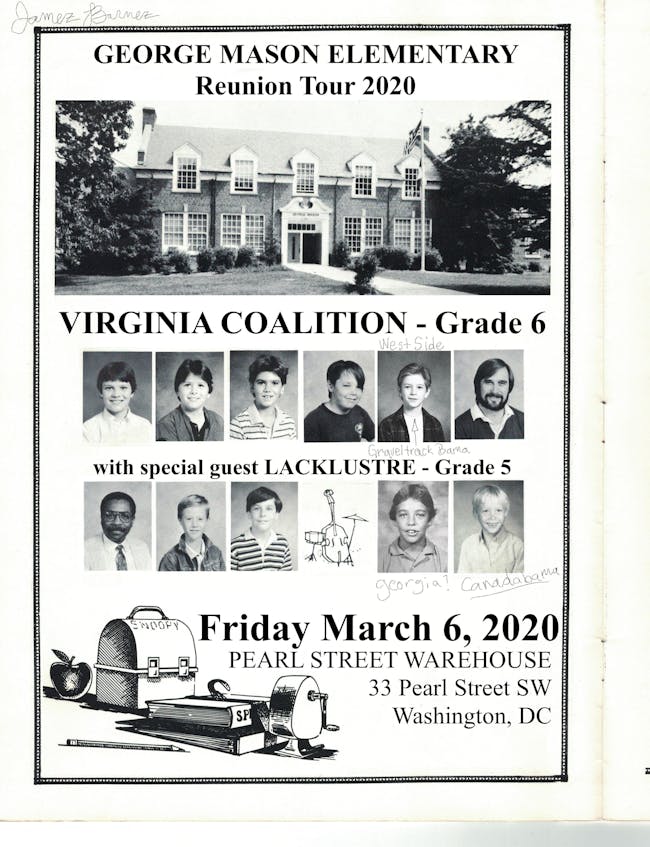 Pearl Street Warehouse Presents
Virginia Coalition
Lacklustre
Please join Pearl Street Warehouse as we welcome VACO back to our stage!
Geographically speaking, Virginia Coalition are from Alexandria. Musically speaking, Virginia Coalition are from a million different places. New Orleans. Liverpool. Memphis. Detroit. Appalachia. Athens, Georgia. Wherever Paul Simon was on the map, depending on the album. The Caribbean before it got ruined by Jimmy Buffett. Overnight radio out of DC during the Marion Barry years. Alan Thicke's cerebral cortex when he was writing theme music for sitcoms. R and B when Jheri Curl was a thing.  Soundtracks to John Hughes movies. Workout montage songs from the 80s that always seemed to have the word "winner" in them. Piano-heavy coffee advertisements. Local car dealership jingles. Junkyard and James Taylor. REM and EU. The Beatles and Bela Fleck. It's all in there somewhere and somehow. The band is a collection of suburban latchkey kids with tons of musical equipment who all came together in basements and living rooms and clandestine keg parties all over Alexandria. Everybody went to college. Everybody got a little smarter and a little better and a little more experienced. Everybody came back and started playing in bars in Virginia, DC, and Maryland. Then they started playing on the surprisingly lucrative Shenandoah Valley fraternity party circuit. Then clubs. Then bigger clubs. Then clubs out of town. Then bigger clubs out of town. Then a record. Then tours. Then another record.  Then more tours. Then another record.  Then more tours, and so on and so on. This sort of schedule isn't possible these days, but they haven't really ever stopped playing, and haven't been able to figure out why anyone would. This is actually a lot of fun, you know.
Andrew Poliakoff, Vocals, Guitar, Percussion: Great baritone. Great soul sensibility. Means it when hesings. Brown Telecaster that weighs 300 pounds. Crushes the congas when necessary, and the band makes it necessary a lot. Is an attorney.
Steve Dawson, Vocals, Guitar: Great tenor. A little bit Southern-Fried. Alabama roots with Louisiana seasoning. Blonde Telecaster.  Is also an attorney. Also plays with Karl Straub on occasion.
Jarrett Nicolay, Bass, Vocals, Pretty Much Anything: It's always the guys who aren't really bass players that turn out to be the best bass players. Jarrett is no exception to that rule. He runs a recording studio, and he looks like a guy who runs a recording studio. He's also the guy who still finds ways to keep beat- up Casio keyboards from 1989 running, and somehow make them sound amazing. Is not an attorney. Also plays with Astra Via and My New Mixtape.
Adam Dawson, Drums: Pretty damn happy to be here, but is out of town a lot. Thinks the best gigs are the ones you don't know are going to happen until about two hours before they start. Is not an attorney. Played with Timmie Metz, Justin Jones, and a lot of random people at the last minute all over the world.
In keeping with the fine Alexandria musical tradition of getting more musicians in there, Virginia Coalition has been lucky enough to get the following absolutely amazing players on stage:
Chris Watling, Saxophone, Horn Arrangements: Baritone, tenor, the occasional accordion. Plays with the Grandsons, King Soul, Last Train Home, and countless others.
Vince McCool, Trumpet: Yeah, that's his real name. You wish you had that name. Played with Tina Turner, The Spinners, Jr. Cline, The Blue Rhythm Boys, Rick Whitehead, John Previti, the J Street Jumpers, and also countless others.
Eli Staples, Piano, Organ, Keytar: Eli can play everything and likes everything except the band Chicago. He's has played with Journey, Mya, Ashanti, and Robin Thicke.
Andrew Pfeiffer, Trombone: A fellow Alexandrian and T.C. Williams alumni, Andrew is also a guitarist in FeelFree. Check them out.
Jay Starling, Lap Steel Guitar, Keytar: Jay is directly responsible for any guitar sounds that might be described as "sizzling." He has a serious musical pedigree which he also exercises when he plays with Love Canon.
Fred Hof, Percussion: Fellow Alexandrian and TC Williams alumni. We couldn't do these shows without him. He also plays guitar with Most Savage Gentlemen.
Lacklustre self described as "Northern Virginia's Most Okayest Band", brings a sound that blends their influences of Americana, Punk, Garage Rock, and Classic Country resulting in a mashup best described as, well, Rock & Roll. Relative newcomers on the Alexandria music scene, their shows combine original tracks with their rowdy interpretations of both well known and more obscure covers.
Lacklustre began as a brown liquor inspired conversation between band mates Tim Barnett and Gary Cantrell around the dying embers of a campfire in December 2014. For nearly three years, the "band" served merely as an excuse to gather friends at the neighborhood watering hole to debate such things as the proper length of shag carpet and the appropriate barbarian scene that would adorn their band van once they stormed the scene.
While Tim and Gary were talking up their fictional band around the neighborhood, Sam Jones and James Barnes were actually making music and honing their skills in a local punk rock band. After the unfortunate and pre-mature breakup of their band, Sam and James, wanting to keep on rocking, reached out to Tim and Gary to join forces and finally bring Lacklustre from concept to reality.
https://www.facebook.com/lacklustreband/
https://www.instagram.com/lacklustreband/
https://soundcloud.com/lacklustreband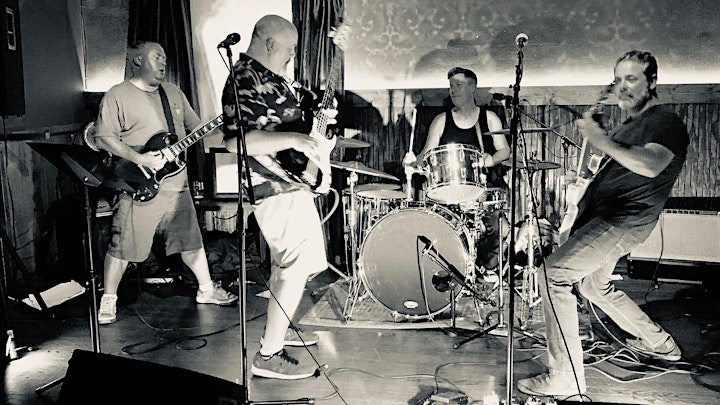 Venue Information:
Pearl Street Warehouse
33 Pearl Street SW
Washington DC, DC, 20024