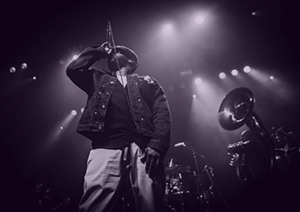 Ari Voxx & The Sad Lads
Ariana was born and raised in the DC area. Music has always been the love of her life, along with all things retro. She grew up singing along to classic Motown artists like The Temptations, Stevie Wonder, Smokey Robinson, Michael Jackson, as well as the smooth jams on her mom's go-to radio station, Majic 102.3. Ariana began playing classical guitar at a young age, and this opened her up to music theory and songwriting. This experience as well as performing with various choral groups in the DMV area allowed her to become the versatile singer and songwriter she is today.
Although her roots began in soul, gospel, spiritual, and both French and Latin classical music, Ariana quickly discovered her love for rock and new wave as well. She would avidly listen to The Cure, Soundgarden, Led Zeppelin, Red Hot Chili Peppers, The Beatles, Cocteau Twins, Jimi Hendrix, Alice in Chains, Siouxsie and the Banshees, and many more. With such an eclectic taste in music, Ariana kept finding herself fighting to not be put in a box by her peers and fans. After fronting the Frederick-based blues/swing band The Gin Rickys, founding her neo-soul project Sweet Something while simultaneously establishing herself as a competent DC jazz vocalist, and ending up in this Covid/quarantine predicament so many musicians have found themselves in, she decided to take her music career into her own hands. Thus, Ari Voxx was created! She's combined aspects of all the music she loves into one chill, melancholy, retro, romantic, indie, pop, girl-powered, introspective melting pot that fully represents all she is.
Social Links