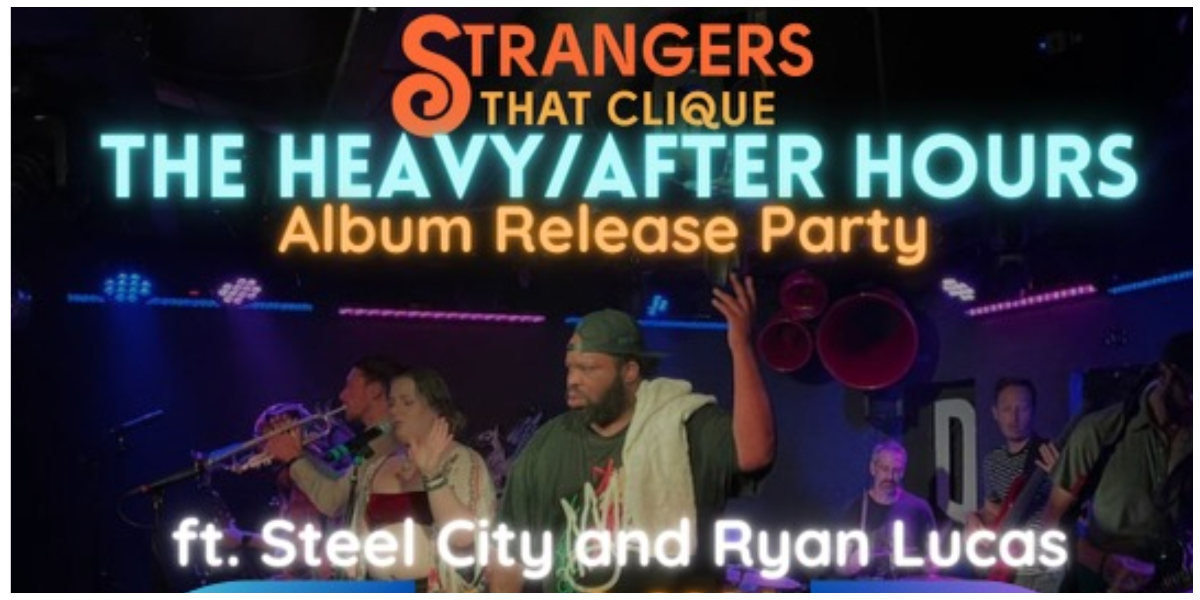 Strangers That Clique + Steel City w/ Ryan Lucas.
About This Event
It's time you ignore that advice and embrace Strangers That Clique, a band that's taking the DC area by storm with its unique fusion of funk, hip hop, and rock. With a diverse lineup of musicians from backgrounds across the musical spectrum, Strangers That Clique has been rocking the DMV since 2018 with fresh tunes that shine like a beacon of toe-tapping creativity in today's world of samples, DJs and stale radio rock. Tight beats, pounding bass, roaring guitars, slick rhymes, majestic horns, passionate vocals and memorable, daneable hooks define the band, which calls DC home and crafts original tunes that stand out from region's sea of cover bands. Have a seat and hit play, and you'll discover these Strangers have the grooves you've always wanted but thought you'd never find.

Website / facebook / instagram / spotify / youtube
Steel City
brings the groove. Formed in 2023, this DC-based band embodies its home city, traversing blues, funk, rock and more with sharp vocals, catchy hooks and a love of the extended improvisational jam. They debuted original material with "Steel City EP" in April 2023 and have more songs on the way, but they make sure to throw in some fun covers here and there. Importantly, Steel City thrives when playing live, earning audience interaction from the stage and on the venue floor.
facebook / instagram / spotify / youtube

Ryan Lucas is a hip-hop soul performing artist & producer from Washington, DC. He creates music to shed light on the pleasure & pain that comes with life, liberty & the pursuit of happiness. These thoughts & musings encourage the audience to seek only the best that life has to offer & recognize the power within themselves to be the change the world is looking for. His influences are KRS-One, Black Star, Common, Nina Simone, J Dilla, Kev Brown, Oddisee & Pharrell Williams. His sound has a fresh approach to hip-hop soul music. He brings an energetic, entertaining, engaging & stimulating performance every time he hits the stage.

website / instagram
---
---