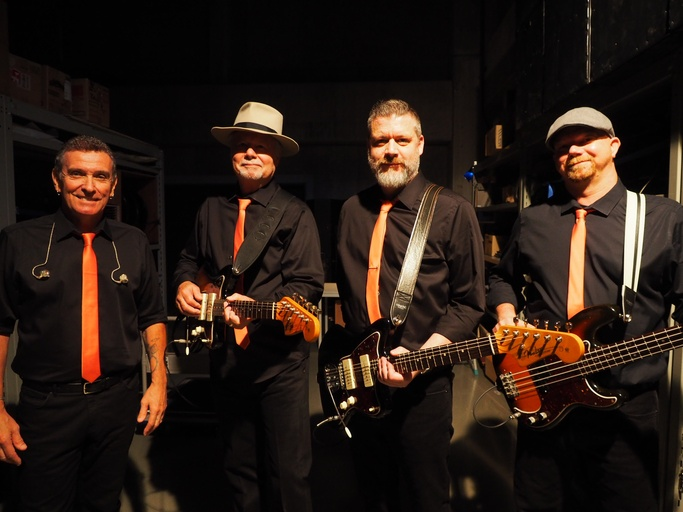 The Ventures w/ Atomic Mosquitos
About This Event
The best-selling instrumental band of all time.
The Ventures
formed in Tacoma, Washington in 1958. The legacy kicked off with the opening drum roll of 1960's "Walk Don't Run", a #2 hit that would go on to sell more than 2 million copies. From the garage, to the beach, to the stars, The Ventures defined an entire decade of instrumental rock music.In 2006 Walk Don't Run was inducted into the Grammy Hall Of FameA cultural and musical phenomenon bar none in the instrumental world, The Ventures charted 37 records in 12 years and released a staggering number of now classic tunes such as: "Walk Don't Run", "Perfidia", "Lullaby of the Leaves", "Bulldog", "Driving Guitars", "Surf Rider", "Apache", "Tequila", "Pipeline", "Wipe Out", "Out of Limits", "Journey to the Stars", "Diamond Head", "Walk Don't Run '64", "Slaughter on 10th Ave.", and the incomparable "Hawaii Five-O".
The Ventures
have sold over a 100 million records. And, with over 200k followers and 30+ million. They were inducted into The Rock & Roll Hall of Fame in 2008.
Website / facebook / instagram / spotify / video
Not much is known about these mutated Atomic Mosquitos, their lives were as normal as most mosquitos until that fateful day they landed on Three Mile Island. "I knew the moment I tasted their blood that something was wrong — horribly wrong!," B Negative was rumored to have said that day. We believe it was that day, that very day, that changed them forever, at least this is what scientists at MIT believe.
You see, since that day they've all had this strange desire to play surf music. Before the accident they had never heard of surf! We think something happened during the mutation, something so horrible that they all found a longing for surf music. From what we understand they were warned about the consequences of surf...there is no market for it... it's not really music to most people. They knew they were on a musical road to obscurity. But there was nothing we could do, something, something beyond our power, had taken control of them, and they will forever be known as the ATOMIC MOSQUITOS.

Website / facebook
---
Artists
---
---
---